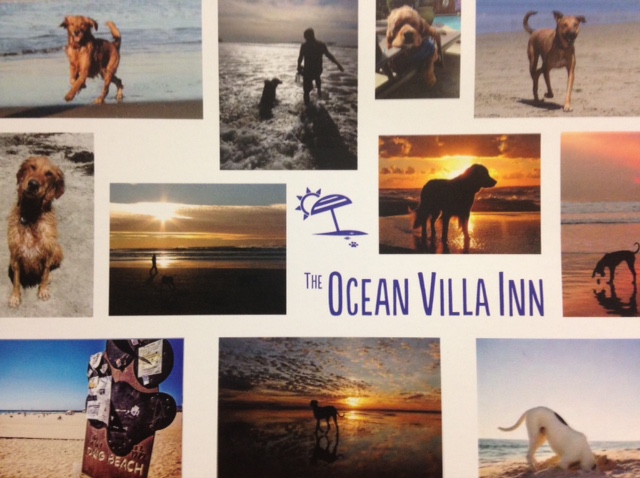 In September I had my vacation in San Diego and took my two dogs with me, mistake or once in a life time for them? It was an experience, however as a pet sitter I like to take vacations to get some R and R away from animals. But it was a great experience and I would like to share that with you all in case you want to take your pets there.
http://www.oceanvillainn.com/san-diego-dog-friendly-hotel.htm
We stayed at the Ocean Villa Inn in the heart of Ocean Beach and 100 yards from Pacific Beach. It is a dog friendly place, it was like dog heaven.  We stayed on the bottom floor because of the communal dog run outside our Arcadia door, so yes you share a "backyard" with about nine other rooms.  It comes in very handy, but you do need to be outside with them because someone can have their door open and our dogs are very friendly. LOL!  We met a lot of great people from here in AZ and their great dogs while out in their private run. We would all sit outside, chat and have drinks while the dogs exhausted themselves. The room is all tile which helps with cleaning up and there are plenty of towels if need be. There is a broom and dust pan, but bring a dust buster if you have one, it would help a lot. The rooms are not 5 star because of the dogs but who stays in their rooms on vacation anyway?
There is a dog beach, a few walking minutes away as well and if your dogs listen then this is great for them. While watching  it got a little crazy with all the dogs running around in the vast area of beach but man they were all having so much fun. We took the dogs to an area round the corner with few dogs and let them play, little less hectic, but I ended up chasing the 9 month old because she is still learning and was having so much fun.
.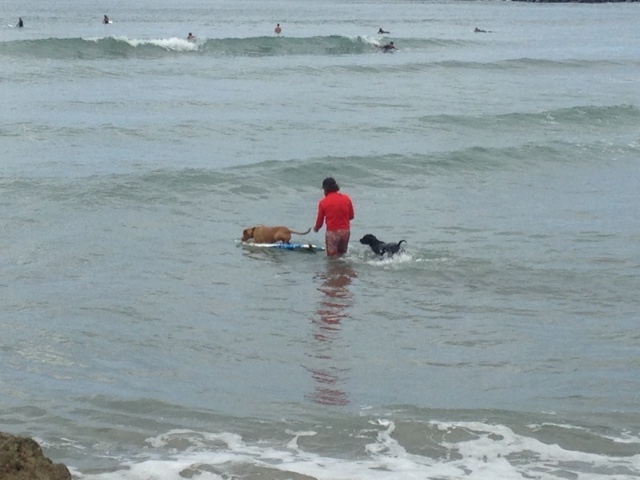 After the beach and some of our walks and even the dog park, the dogs got a bath at the hotels out door dog wash. The pups were the cleanest they have ever been. Plenty of towels and two different size tubs to hold the dogs in or like me I just tied them up and washed away the sand right on the deck.
We also went to dog friendly restaurants, like Shades Oceanfront Bistro.  http://www.shadesob.com/
We also went to the Quartyard which was a neat dog park with food trucks, bar and stage for live entertainment. They also had a large Jenga game with lots of tables and benches. We got the pups hot dogs for lunch there. Im sure the night life there is awesome.  Great place to hang out with the pups.
http://www.quartyardsd.com/
One of the reasons I love going to San Diego every year is because of how relaxing and laied back it is compared to the hustle it is here. The temperature and sunshine with the smell of the beach air is also a great treat, healing powers.  And of course so dog friendly every where you go.
If you do happen to check it out please let me know how your experience was.